---




Ilenna's real estate experience dates back to 1986 when she worked for Tridel, the largest residential condominium developer in Canada. Her top notch sales techniques contributed to the success of Polo Club (Bay and Bloor), Monterey (Bamburgh Circle), Bridlewoode (Bamburgh at Warden & Steeles), Rodeo Walk (Yonge & Sheppard), The Greens at Tam O'Shanter (Bonis Ave near Kennedy and Sheppard), Consilium( Scarborough Town Center)and Omni (Brimley and Ellesmere).

Being the only Chinese sales representative on Tridel's prestigeous team at the time, Ilenna also critiqued preliminary plans and brought about innovative changes in architectural designs, numbering techniques and marketing approaches which helped Tridel tap the growing immigrant market.

Having sold thousands of condo units from 1986 to 1991 for Tridel, Ilenna ventured into the estate home market and joined Living Realty in 1991 where she became one of the top salespersons. She has been purchasing estate lots in North York , Richmond Hill and Gormley for end-users as well as custom home builders. She has also been responsible for the marketing of these clients' custom built home inventory.

Ilenna reached another threshold in 1997 when she broke the record of the most expensive home sold in Toronto by purchasing for her client the principal residence of George Eaton. It proved to be an excellent investment for her client and the property has since rocketed in value, being one of the most coveted residences in Forest Hill.

The clients who dealt with Ilenna during her days at Tridel also kept her busy with the resale of their condos. Ilenna's knowledge of the condominium market has helped her clients garner the best prices in resale and reap the highest return in investment.

In 2003, Ilenna was invited to join Sutton Group - New Standard Realty Inc., bringing with her the support of loyal clients, and a reservoir of hotly sought after listings. With the Sutton Group, Ilenna continued her record breaking streak. In 2007, Ilenna broke the Toronto Real Estate Board's MLS record by selling her listing at 135 Dunvegan Road for over $15 million and thus setting a new record of the highest priced residential home sold in Toronto as reported on the MLS at that time.

After Sutton West Realty Inc. acquired Sutton Group New Standard Realty Inc., the two offices merged under the name of Sutton West Realty Inc. with the main operations moved from Richmond Hill to Etobicoke. With her client base in Richmond Hill, North York, Scarborough, Markham, Whitchurch-Stouffville and Aurora, Ilenna made the switch in 2016 to Right At Home Realty Inc. (Richmond Hill Branch) which is within walking distance of her old Sutton office.

The immense client base which Ilenna has amassed over the past 30 years has kept her appointment book filled. It is however not the dollar sign that decides the priority of her appointments. It is the commitment to maintaining a long-lasting and mutually appreciative relationship that takes first precedence on Ilenna's task list. You will find that no matter whether your deal is a low priced unit or a multimillion dollar estate, once Ilenna has committed to serving you, she will approach it with the same enthusiasm, fervour and devotion.



---




Credentials:




Years of Experience:
30 years
1986-1990: Tridel
1991 - 2003: Living Realty Inc.
2003 - 2016: Sutton Group New Standard Realty Inc - Sutton West Realty Inc.
2016 - present: Right At Home Realty Inc.

Education:
Tertiary education (B.A. Honors):
1982-84 University of Toronto
1980-82 University of Hong Kong

Secondary education (Matriculation): graduated from Maryknoll Convent School in Hong Kong

Field of Expertise:
Residential : homes and luxury condos in the Greater Toronto Area
Commercial: land and investment properties

---

News Coverage:
Toronto Star

National Post

TV

---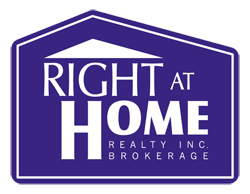 about Right At Home Realty Inc.
---