Ilenna Tai's
Real Estate Knowledge Center: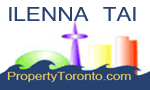 Ontario's New Condominium Act was proclaimed on May 5, 2001
One of the major changes in the new Act is the New Status Certificate which replaces the old Estoppel Certificate. In brief, the Status Certificate will now cost $100.00 (including GST) and the time for delivery of the Status Certificate has increased from seven to ten days. There is no longer a requirement that the person requesting the certificate must request it on behalf of the Purchaser. Anyone can request the certificate and the responses contained in the certificate are binding against the Condominium Corporation. Information contained in the Status Certificate will include:
Any proposed substantial additions, alterations or improvements to common element, changes in assets of the corporation (current requirement) or changes in a service of the corporation;
Any agreement between the owner and the corporation regarding alterations made to the common elements by a unit owner;
Any amounts, if any, that the Act requires be added to the common expenses payable for the unit;
A list of all agreements for: (a) Management; (b) The provision of goods and services on a continuing basis (not including telecommunications agreements); (c) Services and/or facilities for which owners pay an extra fee; (d) Leases of all or part of the common elements for business purposes; (e) The mutual use, provision, maintenance or cost-sharing of facilities or services entered into by a declarant board; and (f) Insurance trust;
A statement of all outstanding judgements against the corporation and the status of all legal actions to which the corporation is a party;
A copy of the budget of the corporation for the current fiscal year, the last annual audited financial statements and the auditor's report on the statements;
The most recent reserve fund study and updates to it, the amount in the reserve fund no earlier than at the end of a month within 90 days of the date of the Status Certificate and current plans, if any, to increase the reserve fund;
Number of units, for which the corporation has notice of lease;
Any appointment of an inspector or administrator;
Copies of any applications to court for orders amending the declaration;
Any additional requirements imposed by the regulations.
In addition, if a Status Certificate that a Corporation has provided omits material information that it is required to contain, it will be deemed to include a statement that there is no such information.
While the preceding highlights only some of the information contained in Section 76 - Status Certificate of the New Condominium Act, you may contact the Ministry of Consumer and Business Services at (416) 326-8555 or toll free 1-800-268-1142 for the act in its entirety and additional information.